30 Sec's on....
04 Apr 22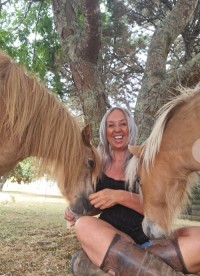 I have had the most amazing conversations this week.
And the best part?
They have been from women of all ages - ranging from 19 to late 70's.
And as you would expect, there were many differing aspects to the conversations. Well, a woman who has lived a life has a far different outlook to a girl who is at the very start of her journey.
But what has been most interesting, is how we all have different takes on the same way of saying, No.
While one of my experienced friends said, I love John, and we've been together years now, but if he walked in the door and said, "Hey, I've got a connection with someone else", I would say," Go".
She did amend that later and say she would be very upset, but stood by the, If there is someone out there better than me, for you, go. I'll be fine.
Another one of my friends, of the younger variety, was in the headspace of, I'm working really hard to find people who want to do stuff. Actual stuff. Not drugs and alcohol and sex.
That was powerful.
Although, I would have preferred her not to add, But that's not easy.
For me, I looked at things differently from both. My go to phrase is, Hell, no! That will not be me which, as I explained, enourages me to think outside the square and make great choices.
Because knowing what I don't want is a great recipe to getting success in what I do.
Love your life, love your choices.
Kissy hugs
T and Spirit
xx