30 Sec's on....
07 Feb 22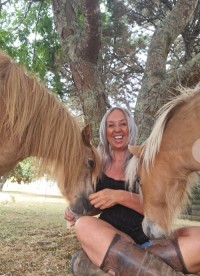 I wish to speak about Valentines Day today because well, it is exactly 7 days from now and I thought I would give everyone a heads up.
First off, Do I love Valentines Day?
No.
Unless I'm getting bucketloads of flowers, sexy messages, little love notes, lingerie, chocolate, an old, old book I have been looking for and either a seriously great dinner out and/or my personal favourite, a man cooking for me.
There's nothing sexier than a man that can cook.
And does so willing.
Then great sex.
A bubble bath with sweet smells and hot enough to make me tingle, is also good. But a little over kill with the dinner.
Actually, you could give me a bubble bath and then wrap me in a nice hot, huge bath towel, rub me down then pop me into bed where I might like to sleep for the next 14 hours...
No, no, definitely not suitable if you wish to be naked with me too and up to no good.
And I love hand written notes.
You know, the old fashioned kind.
Written with a pen, on lovely paper, in your own hand.
With your own words.
Actually, now I think about it, I love Valentine's Day.
Kissy hugs
T and Spirit
xx