30 Sec's on....
01 Nov 21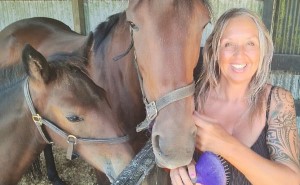 You know what I miss the most at the moment?
Old bookstores and Farmers Markets.
Do I miss hairdressers or nail salons?
Not so much.
Although to be fair, the only reason I'm not munty about hairdressers is because the re-growth that has come through, is the same white as the colour I already had streaked through my hair.
So you know, I got lucky in the gene pool there.
But anyway, one of my most favorite things in the Universe is browsing old bookstores, finding hidden treasures to take home to live with me, and seeping myself in the loves and lives of people that have come before me.
Maybe I'll find another herb book, cook book or another one of my old favorite authors.
Or what about Farmers Markets?
Walking round with a hot drink and a good friend, finding Nana's home made fudge, or Ginger Crunch, strawberry or black doris plum jam, marmalade or maybe a candle. Possibly a little knick knack that will sit in my garden, a new wind chime that will hang on my deck, or a little "thing" which I just can't live without.
These are the things that I miss the most...
Soul vibes.
Wishing you much awesomeness
Witchy kisses
T and Spirit
xx