30 Sec's on....
21 Dec 20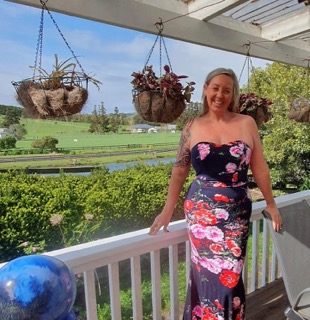 Ok, so I know I should be talking Christmas stuff today, but my baby is over the other side of the world. And as much as I'm not having as many abandonment issues as I was, I've decided not to poke the bear.
So no Christmas tinsel, ham or elf type stuff today, but rather...Flowers.
Bucketloads and bucketloads and bucketloads of flowers.
Flowers in food, round food, and in jars, vases and pots all round the house.
But mostly, at this quirky and slightly weird, place in time, edible flowers.
I mean, you already know how much I love pure, clean food. What you might not know though, is I also love food being beautiful - for the soul, made with love, and aesthetically pleasing to the eye.
You know the kind, food that feeds you, deep in your bones.
With a little dollop of magick.
So I've been making deconstructed pavlova, with bowls of cream and lemon curd, fresh blueberries, blackberries and edible flowers.
Well, actually I needed to go down and buy some, plant in the garden and then grow them, but I made sure that I could use a few of them immediately.
Then made, Ginger Shortbread.
I couldn't actually get flowers into that particular recipe, but found that I had the most gorgeous baby roses growing around my deck, that wished to lay on, and around, the dish.
Actually, now I'm talking about it, I really wanted to make Kawa Kawa and Lemon Shortbread. But my Kawa Kawa was not bug ready.
Heartshaped and green, bold and beautiful...
But no bugs.
So the heart is not quite ready.
And I'm waiting, not-so-patiently, for my Lavender to grow, because I want to make Lavender Shortbread with Lavender sugar.
Obviously, with Lavender flowers and leaves for decoration.
But again, I have to wait. To water and watch, to nurture and tempt the roots to lay down, then grow. To be a part of the process.
I'd forgotten the excitement the soul has though, of using all my senses to eat. From the simple pleasure of hands covered in flour, tempting, teasing and creating, to the physical baking, aroma, and then the finished plate.
Not just a cookie, or cake or pavlova.
The story.
Big love and horsey kisses from us here, to you there.
T, Spirit, Caps, Az, Ralph, Chew, Suz, Mumma, Belle, Boo and of course, (cows) Fenny and Flash, (Chickens) Pat and Chuck and our latest additions, Grease and Lightning.
xxxxxxxxxxxxxxxxxxxxxx
* Have the bestest time this Christmas - Home is where the heart is.