30 Sec's on....
03 Aug 20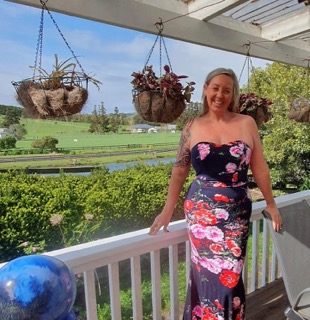 So I'm on a Zen vibe at the moment.
Not particularly because I want to, but because Spirit said, You better be finding your backbone, missy, 'cause we have some big changes for you.
Silence.
More silence while I pondered my beautiful life as it stood, and contemplated what might constitute unwished for change.
Worked out I didn't have long to wait.
Within an hour I got not just a text but a phone call, from the young one who had tracked me down, saying a Visa appointment had come up for 8.30.
Tomorrow.
Within 2 hours of the Visa appointment, he was back home grinning from ear to ear.
He was all approved and ready to go, once passport was couriered home. Towards the end of next week he was told.
He got an email 4 hours later to say the passport was on the courier.
He's flying out 8 days from now, as I'm writing this.
Or two days ago by the time you read this.
Then really close friends of mine got awesome news...their dream of shifting and building their dream home down the line has opened up.
And I couldn't be happier for them, they're fantastic peeps.
But I was telling the young one and he was like, How are you feeling right now?
I was like, Well, we're about to see what kind of backbone I have. I mean, everyone talks about having a backbone, but it doesn't work like that. You only know what you're made of when you're thrown a curve ball. And I told you things would happen quickly. And that it would be fine.
I didn't bother telling him that Spirit were also standing there going, You better 100% be supporting him, missy, because this is a fantastic opportunity. And we want him there. So no bloody histronics!
Anyhou, that's where I'm standing.
But Spirit have a message for you, too...
If you have change going down, if life's throwing you a curve ball (or multiple) don't you be getting all messy now. Do anything positive that you can, to keep yourself together.
Find your backbone.
Then use it.
Don't fall down the rabbit hole.
Wishing you much love and abundance and a truly courageous heart.
T and Spirit
xx
* Liam caught a flight to L.A. 9.40pm Saturday night.
It was super eerie at Auckland International Airport, we were one of only 3 people there when we arrived. Everything was shut. Everything. Got booked in, went upstairs and again, nothing was open apart from one little cafe, right in the back corner. Eventually, other people arrived to depart, but there would only have been 28 at the most. Including us. The roller doors were even closed to departures. We had a snack, chat, more chat, and then the departure gates rolled up.
And there we were.
What you may not know, is that even though you have your passport, Visa, have paid for your plane ticket and actually got on plane and arrived in America, you still have to get through Customs in America. They have the final say, and can turn you round and just pop you back on a plane if they wish. No reason required.
Anyway, there we were standing at the gates, then Spirit were there, on the other side of departure. There were 4, but the woman was the busiest. Fluffing around, organising things and the next minute she is doing this funny hand waving type thing at me, Hurry up! It's time to go.
I swear, watching Liam walk through those doors was the hardest thing I have ever done.
But as I'm writing this, he's landed in L.A, through customs (after 2 hours in a small room with lots of questions), on his way to California, then Sacramento, then Virginia, Washing DC.
Game on.
xx